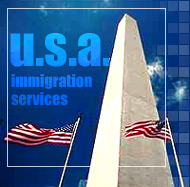 We at Immigration Specialist understand the importance of your legal status and the anxiety in which clients face trying to find answers to their questions.

We will provide you with an affordable non-attorney document preparation service, which assists clients in handling their own cases while providing reasonable rates, reliable service and individual attention. We have extensive knowledge and experience in the following areas:

FiancÚ Visa Petition
Political Asylum
Adjustment Of Status
Citizenship
Petition for Alien Relatives
Advance Parole
Re-Entry Permit
Affidavit of Support
Visitor Visa
Visa Extension
Labor Certification
Passport and Green Card Photos
Student Visa
Asylee Travel Document
Religious Workers
We have assisted many clients with a great success. We have received numerous cards, letters and e-mails thanking us for this service.

We look forward to serving you as well.